Organizer
Postdoctoral Fellows Office
The Six Leadership Conversations focuses on building essential competencies to help you as a leader have six necessary conversations at work. Your effectiveness as a leader is directly linked to the way you communicate. The health of your department and organization is a reflection of the type of conversations managers and employees have, in meetings and around the water cooler.
SESSION DATES
This is a two-day session, and attendance in both days is required. Participants will be asked to complete pre-work in advance of the session.
Day 1: Wednesday, November 30, 2022 - 9:00 AM - 12:30 PM
Day 2: Wednesday, December 7, 2022 - 9:00 AM - 12:30 PM
Objective
The Six Leadership Conversations is an interactive workshop featuring six essential conversations to help you build your influence and make a difference when you communicate:
Listening conversations—how to listen to understand and empathize. Develop your competence using a four-step process for deep listening by parking judgment, listening to understand and responding with empathy;
Learning conversations—how to facilitate learning conversations. Help colleagues and employees come to insight as you foster learning by asking insightful questions. Learn how to use an effective three-step process to help others take ownership of responsibilities;
Feedback conversations—how to give, receive and request feedback. Develop your self-awareness and build your credibility by learning how to ask for feedback from colleagues and provide feedback to those who report to you;
Necessary conversations—how to have proactive, necessary conversations. Develop your emotional agility and conversational intelligence as you learn how to use your authentic voice to communicate clearly, help minimize misunderstandings and have real dialogue without damaging relationships;
Tough conversations—how to have tough, persuasive and disciplinary conversations. Learn how to have tough, persuasive and sometimes disciplinary conversations using an interest-based persuasive conflict resolution tool.
Mentoring conversations—how to coach for results and performance. Learn how to use an extremely flexible and powerful mentoring map that provides a structure for your conversations about performance.
FACILITATOR
Dene Rossouw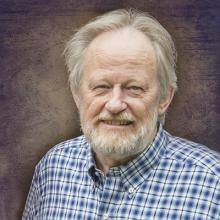 Dene is Principal and Learning Coach at team Possibil. He has facilitated hundreds of programs for various organizations in Africa and Canada and is known for his ability to demystify complexity and explain processes using transferable concepts and dynamic models.
Dene brings an eclectic background to the table: he's been a paratrooper and preacher and is currently a learning coach and wildlife photographer. Each experience has provided a rich backdrop to his approach to inviting possibility and building influence through the power of authentic dialogue, persuasive writing and compelling storytelling.
REGISTRATION
Registration in this session is required and will open closer to the session date. Those successfully registered will receive an email confirmation from the PDFO within a week of the session date.
NO-SHOW PENALTY: If you register and do not attend or cancel after 3pm on the day before the event, it may affect your eligibility to join future events. To avoid this no-show penalty, please cancel by at least 3pm the day before the event by e-mailing postdoctoral.fellows@ubc.ca.
Accessibility
If you have a disability or medical condition that may affect your full participation in the event, please email postdoctoral.fellows@ubc.ca in advance of the event.
DELIVERY FORMAT
This session will be delivered online via Zoom. The following suggestions may help to improve the online experience:
Use headphones to reduce noise and avoid feedback between your mic and speaker.
Ensure that you are in a quiet location so that the audio does not get polluted with unwanted noise.
Keep your microphone on mute unless you are speaking during the session.
In case of technical problems, time for plugin downloads, etc., please attempt to log into the Zoom meeting 10-15 minutes before the start. You will be placed in the waiting room until the official start time.