Killam Postdoctoral Research Fellow Roberto Filippello is researching how aesthetic practices such as fashion design and image-making have been historically used by LGBTQ+ individuals to voice political consciousness and shape affective communities.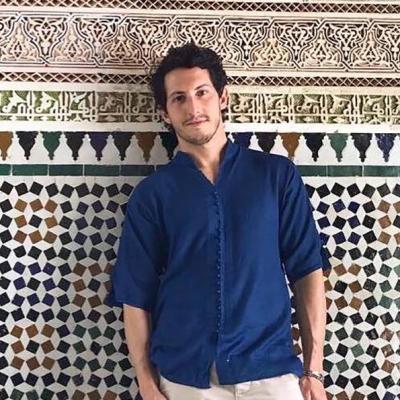 Department
Community, Culture and Global Studies
Supervisor(s)
Dr. Ilya Parkins
Research topic
Fashion, Queer Culture, Creative Activism
Research Description
I am a scholar of queer and feminist fashion culture. I am interested in how aesthetic practices such as fashion design and image-making have been historically used by LGBTQ+ individuals to voice political consciousness and shape affective communities. My work documents the visual and written discourse produced on the fringes of the fashion system to resist hegemonic (heterosexual, nationalist, and colonial) fantasies and carve out alternative social imaginaries. My postdoctoral project tracks the rise of a queer-feminist fashion movement across the Middle East by engaging with the creative production of grassroot fashion and textile collectives that have emerged over the last decade alongside activist decolonial struggles.
Why did you decide to pursue a postdoctoral fellowship at UBC? Did you consider other opportunities?
UBC has an excellent reputation as a research university. In addition, I was drawn to the opportunity to be hosted by a gender studies department, as I did my graduate work in departments of art and design. I was also drawn to Canada, where there is ample funding support for interdisciplinary research in the humanities as well as a keen sensibility toward the social experiences and issues I am writing about.
What specifically attracted you to your research group?
I share a commitment to queer and feminist thought within the subfield of fashion history and media with my mentor, Dr. Ilya Parkins, so ours was an obvious match. We are currently co-editing a volume and planning some exciting new projects, such as a cross-UBC seminar series on queer media and a feminist fashion symposium.
What advice do you have for new postdoctoral fellows?
My advice for postdoctoral fellows would be, if you are moving during a pandemic and from as far away as I have, you might want to consider that both the planning and the adjustment are likely to take much longer than you expect.
What do you like to do for fun?
I love surfing and playing tennis. I also enjoy learning foreign languages, watching bad reality-TV, and going to concerts.
What is the most enjoyable aspect of your postdoctoral fellowship?
I love having the opportunity to exchange ideas with scholars I admire from different fields and to have the institutional support to think expansively about my research trajectory.
What are the biggest challenges you have faced, or anticipate facing, in your career?
International mobility is of course thrilling for the horizons it opens, but it is also strenuous on many levels. The increasing pressure and expectations of productivity we are all, as ECRs, keeping up with in the face of the academic job market can also be challenging.
What in your life or career has prepared you for this position?
Prior to embarking on my doctoral training, I worked as a fashion editor in the New York publishing industry. It was a job that required thinking independently while also being "social" and proactive in developing creative collaborations. That equipped me with some of the tools that turned out to be most helpful in preparing me for this position.
What does receiving this award mean for your career?
Through this prestigious fellowship I am gaining further research experience and increasing my international visibility as a scholar, which hopefully will help me secure a permanent academic position and a book contract.