Simple strategies for happier time: The role of people, workplaces, and policy in promoting time affluence
Date & Time
Wednesday, 15 May 2019 -

10:00am

to

12:00pm
Location
Life Sciences Centre, UBC Vancouver, Point Grey Campus
Organizer
Faculty of Graduate and Postdoctoral Studies
People today report feeling increasingly pressed for time, undermining health and happiness. In this talk, Dr. Ashley Whillans will outline the strategies that individuals, organizations, and policy makers can employ to combat rising feelings of time scarcity.
Vivien M. Srivastava Lecture
This event is supported by the Vivien M Srivastava Memorial endowment. Dr. Vivien M. Srivastava was the first woman to receive a PhD in Zoology at UBC: https://science.ubc.ca/grad/wis/srivastava . We thank them for their generous support of this event .
Funding and support for this session is also provided by the Faculty of Graduate and Postdoctoral Studies and the Wellness Centre.
Speaker Biography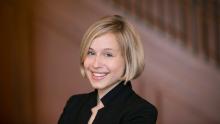 Ashley Whillans is an assistant professor in the Negotiation, Organizations & Markets Unit, teaching the Negotiations course to MBA students. Broadly, she studies how people navigate trade-offs between time and money. Her ongoing research investigates whether and how intangible incentives, such as experiential and time-saving rewards, affect employee motivation and well-being. In both 2015 and 2018, she was named a Rising Star of Behavioral Science by the International Behavioral Exchange and the Behavioral Science and Policy Association. In 2016, she co-founded the Department of Behavioral Science in the Policy, Innovation, and Engagement Division of the British Columbia Public Service. In 2017, her PhD won the CAGS Distinguished Dissertation Award. Her research has been published in numerous academic journals and popular media outlets including The New York Times, The Harvard Business Review, The Wall Street Journal, and The Washington Post.
Registration Information
Registration in this session is required, and is now open. After registering, you will receive confirmation and additional event details at the email address you provided.