Welcome
Please join us for UBC's Orientation Day for PDFs. This semi-annual event is sponsored by the Postdoctoral Fellows Office (PDFO) in the Faculty of Graduate and Postdoctoral Studies. All new PDFs and existing PDFs who have not yet attended a PDF Orientation are invited.
The next Orientation for Postdoctoral Fellows will be on Thursday, October 17, 2019.
 
Registration
Registration in our Orientation for Postdoctoral Fellows is required, and is now open. Successfully-registered postdocs will receive a confirmation email within one week of the workshop date. If you are no longer able to attend, please contact postdoctoral.fellows@ubc.ca at least 24 hours before the session date.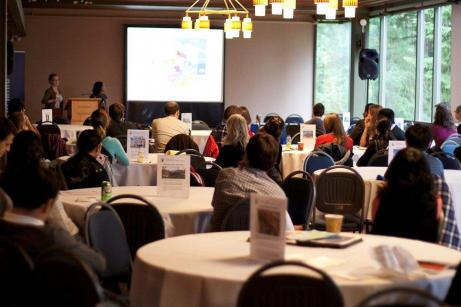 Agenda
Orientation Day will cover a range of important campus and academic information and advice geared to help you and your families obtain the most from your Postdoc experience at UBC. Also, this will be an opportunity to get connected on campus and to meet other Postdocs from many different faculties.
Programme
Please note that the programme may change based on presenter availability.
Registration / Information Fair
Light Breakfast
Welcoming Remarks - Faculty of Graduate and Postdoctoral Studies
Introduction to the Postdoctoral Fellows Office
Introduction to the UBC PDA and Getting to Know Vancouver
Introduction to the VP Research Office
Introduction to Postdoctoral Appointments & HR Benefits
Teaching Development Opportunities for PDFs at UBC
Surviving & Thriving at UBC - A Postdoc's Perspective
Keys to Success as a Postdoctoral Fellow
Wrap Up & Closing Remarks