PDFO RESOURCES
PDF RESOURCE GUIDE
A Guide for Postdoctoral Fellows, the handbook for UBC PDFs, provides basic information and advice for prospective and current PDFs. It should facilitate your transition to UBC, and help to ensure that you have a satisfying and rewarding experience.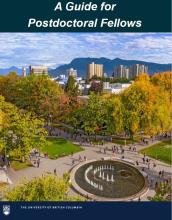 Download A Guide for Postdoctoral Fellows
Much of the information in this handbook is from the Faculty Relations website and in the Postdoctoral Fellows Office (PDFO) website. Please check these websites for more detailed information and to check for current language and developments. UBC operates according to policies, practices and procedures that may change from time to time. Contained herein are policies and resources pertinent to PDFs. PDFs may also be subject to additional policies that are specific to their departments or funding agencies. The official University of British Columbia Postdoctoral Policy, contained in Policy AP10, can be found within the list of policies on the University Counsel website.
Last Updated January 2023
POSTDOC PROFILES & DIRECTORY
Please ensure that you complete a Postdoc profile to describe your research project and expertise.Various offices and external entities may use the expertise search to identify experts at UBC, for example - media inquiries, research collaborators, prospective employers, government offices or other similar stakeholders. We strongly believe that these Postdoctoral profiles will provide numerous benefits to all of our UBC Postdoctoral Fellows. Additionally, your profile will appear in an internal Postdoc directory.
ARTICLES OF INTEREST 
Postdoctoral Fellowships 
How to Find the Right Place for your Ph.D or Postdoc (Elisabeth Pain, Science Magazine, September 10, 2018)
Coming to the US for a postdoc? – If I had known, part II (Elena Blanco-Suárez, Naturejobs, March 6, 2018)
Do You Need a Postdoc? (Stephanie K. Eberle, Carpe Careers, Inside Higher Ed, September 10, 2018)
Resources for finding a postoc abroad (The American Society for Biochemistry and Molecular Biology, July 13, 2018)
Professional and Career Development