A Guide for Postdoctoral Fellows, the handbook for UBC PDFs, provides basic information and advice for prospective and current PDFs. It should facilitate your transition to UBC, and help to ensure that you have a satisfying and rewarding experience.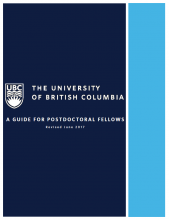 Much of the information in this handbook is from the Faculty Relations website and in the Postdoctoral Fellows Office (PDFO) website. Please check these websites for more detailed information and to check for current language and developments. UBC operates according to policies, practices and procedures that may change from time to time. Contained herein are policies and resources pertinent to PDFs. PDFs may also be subject to additional policies that are specific to their departments or funding agencies. The official University of British Columbia Postdoctoral Policy, contained in Policy #61, can be found within the list of policies on the University Counsel website.
Download A Guide for Postdoctoral Fellows.
Last Updated June 2017
Postdoc Profiles & Directory
Please ensure that you complete a Postdoc profile to describe your research project and expertise.Various offices and external entities may use the expertise search to identify experts at UBC, for example - media inquiries, research collaborators, prospective employers, government offices or other similar stakeholders. We strongly believe that these Postdoctoral profiles will provide numerous benefits to all of our UBC Postdoctoral Fellows. Additionally, your profile will appear in an internal Postdoc directory.
RELOCATION TO VANCOUVER
The Housing & Relocation Services Office helps with the smooth transition of new faculty, PDFs, staff and their families who are relocating to UBC. The office is an excellent first point of contact for those moving or who have recently moved, providing resources, support and events to help situate you in your new surroundings. Please contact the Housing & Relocation Services office for assistance with your relocation.
BULLETINS for Postdoctoral Fellows
September 2017: Work Permit Renewals and BC Medical Services Plan (MSP) Coverage
If you are working in British Columbia under a work permit and you are enrolled in the Medical Services Plan (MSP), your medical coverage will end when your work permit expires.
If you will be applying for a new work permit, it is important that you apply as far in advance of the expiry date of your current work permit as possible. This will avoid a lapse in coverage and having to serve another wait period. Current estimated processing times for work permit extensions can be viewed on the Immigration, Refugees and Citizenship Canada (IRCC) website.
Human Resources has sent out an HR memo via email to all UBC faculty, staff, and postdocs who hold work permits. The memo explains the importance of renewing work permits well in advance in light of a recent change by the Ministry of Health/Health Insurance BC to end MSP coverage at the end of the month that the individual's work permit expires and reinstating upon receipt of the new work permit. 
Questions?
If you have any questions about renewing your work permit, please contact your Department or Faculty administrator.
If you are enrolled for MSP through UBC and have any questions about your MSP enrollment, please contact your Payroll Benefits Representative.

Vancouver Campus

If your last name begins with the letters A – L, contact Marissa Manlig: marissa.manlig@ubc.ca or 604-827-3212.
If your last name begins with the letters M – Z, contact Pravin Khan: pravin.khan@ubc.ca or 604-822-8701.

Okanagan Campus

If you are enrolled for MSP through Health Insurance BC, please contact them directly at 604-683-7151.
Updated October 4, 2017
July 2017: Parental Leave Changes for Tri-Agency Fellowships
Working collaboratively, the Social Sciences and Humanities Research Council of Canada (SSHRC), the Natural Sciences and Engineering Research Council of Canada (NSERC), and the Canadian Institutes of Health Research (CIHR) have sought to improve access to paid parental leave, harmonize their guidelines and reduce administrative burden.
As a result, effective July 31, 2017, SSHRC will join NSERC and CIHR in providing parental leave supplements paid out of agency grants within six months following the child's birth or adoption to eligible students and postdoctoral fellows who are primary caregivers for a child. (This will not be retroactive; it will apply to births and adoptions on or after July 31, 2017.)
Further, for all three agencies starting on July 31, 2017, students or fellows eligible for other parental leave supplements may also be eligible for Agency supplements. The following sentence of the Tri-Agency Financial Administration Guide in the "Administrative Matters" section will be deleted: "Students or fellows who are eligible for employment insurance or other parental leave supplements from other sources do not qualify for parental leave supplements".
For any question regarding this change, please contact:
May 2017: Taxation Changes for FEL Appointments
As of May 31, 2017, UBC is no longer withholding income tax for graduate students and Postdoctoral Fellows who are in receipt of fellowship (FEL) earnings. This change was prompted by a review of current UBC practice and the resulting conclusion that this change is necessary to bring UBC into compliance with Canada Revenue Agency tax policy.
Postdoctoral Fellows with questions about their appointment type should contact their Department Administrators.
Updated August 3, 2017
PDF Coordinators
UBC's official process for resolution of disagreements is found in Policy #61.
Open and frequent communication between you and your supervising faculty member is the best way to avoid conflict. To resolve a disagreement between you and your supervising faculty member is to recognize it when it first arises, and collaborate immediately on finding a solution. If unresolved, disagreements should be brought to the attention of the head of your academic unit.
If further resolution is needed, contact your Faculty's PDF Coordinator, who will act as an impartial facilitator. PDF Coordinators for each Faculty are as follows:
The Faculty PDF Coordinator or the PDF may refer an issue to either the Associate Dean for PDFs in the Faculty of Graduate and Postdoctoral Studies at UBC Vancouver or the Dean, College of Graduate Studies at UBC Okanagan, whose decision on an issue will be final.