Since 2009, the National Postdoctoral Association has sponsored National Postdoc Appreciation Week to recognize the significant contributions that postdoctoral scholars make to research and discovery. We hope that all supervisors recognize the efforts of their postdocs during this week of celebration.
UBC, and especially the PDFO, would like to take this opportunity to thank our postdocs for their hard work and for all the contributions they make to UBC's research enterprise.
2021 PDFO NATIONAL POSTDOC APPRECIATION WEEK EVENTS
This year, the PDFO is excited to host a series of panels and events related to career development for both the academic and non-academic career paths. While UBC is preparing for a September 2021 return to campus, the PDFO is planning for a majority of our National Postdoc Appreciation Week events to be held online via Zoom. We hope you are able to join us at these upcoming events!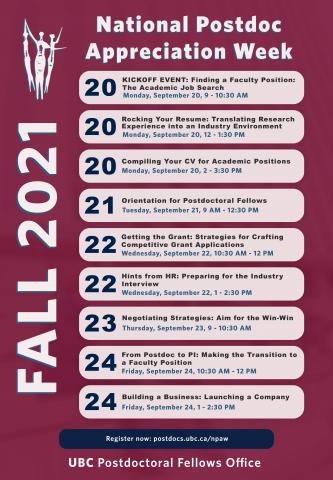 UBC POSTDOCTORAL ASSOCIATION (PDA) EVENTS
Visit the UBC Postdoctoral Association for information about the events that the PDA will be hosting as part of National Postdoc Appreciation Week. PDA events include:
OTHER ON-CAMPUS EVENTS
If your faculty, department/unit or research group will be offering events for National Postdoc Appreciation Week, please let us know! 
PAST EVENTS