Postdoc Instructional Skills Workshop (ISW) - November 2019
Date & Time
Sunday, 17 November 2019 - 8:30am

to

Sunday, 24 November 2019 - 5:00pm
Organizer
Centre for the Integration of Research, Teaching and Learning (CIRTL)
The Centre for the Integration of Research, Teaching and Learning (CIRTL) at UBC, in collaboration with the Postdoctoral Fellows Office, offers an Instructional Skills Workshop (ISW) designed specifically for postdoctoral fellows. This 3 Day workshop focuses on the theory and practice of evidence-based teaching techniques. During the workshop, you will discuss the key elements of learner-centred lesson design and adult learning theory. Additionally, you will have a chance to teach three short lessons and receive feedback from your peers. You will work closely with peers and ISW facilitators in a supportive atmosphere where you will begin to develop new teaching skills, enhance your existing skills, and/or try new and challenging ideas.
The Instructional Skills Workshop is the first component of the Postdoc Teaching Internship program developed by CIRTL in collaboration with the PDFO. This program was piloted in Spring 2019 and was seen as very useful by participating PDFs. The program is based on two components: the ISW and Mentored Discussions of Teaching, one-term participatory workshops in which participants observe mentors in their teaching, teach and receive feedback from these mentors, discuss the mentor's approaches to teaching, and engage in group discussions of teaching. Participants in this ISW are encouraged to enroll in the Postdoc Teaching Internship Program upon its launch in the coming months.
This postdoc-specific ISW will be held on November 17, 23 and 24, 2019. If you are interested and available, please submit your applications through the registration form. Applicants will be selected on a randomized basis by draw.
You can find more information about the upcoming Postdoc Teaching Internship program on the CIRTL website or by contacting cirtl.info@ubc.ca.
WORKSHOP DETAILS
Dates: Sunday, November 17; Saturday, November 23; and Sunday, November 24, 2019 (attendance at all 3 sessions is required)
Time: 8:30 am – 5:00 pm (some online pre-work is required in the weeks preceding the sessions)
REGISTRATION
Registration in this session is required, and is now open. Registration deadline is Friday, October 25, 2019.
* Please note that you will be contacted within two weeks of submitting this form to confirm your registration and pay a $60 refundable deposit. Further details about the workshop and the required preparation will be provided 2 weeks ahead of the workshop. 
Postdocs understand that by signing up for this ISW, they are making a commitment to participate in the complete 24-hour workshop, including attending all three days of the face-to-face sessions (November 17, 23, 24), 8:30 am-5:00 pm as well as completing the required online pre-work.
FACILITATORS
Jens Vent-Schmidt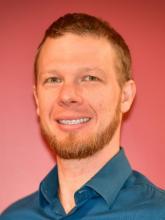 Jens Vent-Schmidt is the educational developer for CIRTL and an instructor in Biology at KPU. During his PhD in Experimental Medicine at UBC, Jens worked as an ISW facilitator, facilitator trainer and mentor at UBC's Centre for Teaching, Learning and Technology. He has a passion for evidence-based teaching and research for the public benefit.
Jens is excited to share his experience on using teaching techniques taught in the ISW in an undergraduate classroom at KPU.