Public Speaking Unlocked
Date & Time
Thursday, 8 February 2018 -

9:00am

to

12:30pm
Location
Irving K. Barber Learning Centre, 1961 East Mall, Point Grey campus
Organizer
Postdoctoral Fellows Office
This half-day workshop introduces the basic concepts of public speaking and effective communication in an interactive and engaging way.  Applying strategies from the Toastmasters™ method, Dale Carnegie Training, poker analysis, theatre and improv, combined with the learned experiences of the facilitator, participants will learn a variety of communication skills and strategies.  Participants will leave this session with the confidence and clarity required for a variety of public speaking ventures.
Learning Outcomes
By the end of the session, participants will have:
A toolkit of both verbal and non-verbal tips designed to help you master the use of speech and body language.
An understanding of how to communicate with confidence and leave your audience with a strong impression.
A model for storytelling that will allow participants to compel and persuade their audiences.
Facilitator
Ivan Wanis Ruiz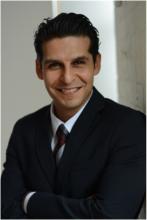 Ivan Wanis Ruiz is a communications expert like no other. He has been a guest lecturer at not only the University of British Columbia but also the University of Toronto, Ryerson University, University of Guelph and many more. He has travelled across Canada twice as the official spokesperson for both the PanAm Games and most recently the Invictus Games.
Speaking in front of media, in one-on-one conversations and in front of audiences of thousands he has developed and nurtured a truly unique and practical communication style. "I am obsessed with ideas, not just how they are communicated, but more importantly how they are remembered!"
Ivan is also the author of They Don't Have to be Naked: A new approach to Public Speaking.
Registration 
Registration in this session is required, and is now open. Those successfully registered will receive a confirmation email within a week of the workshop date.