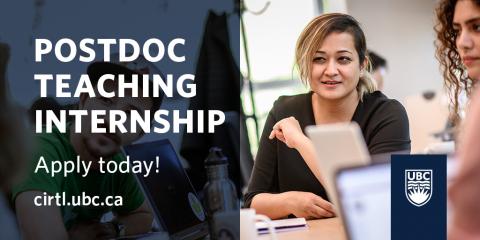 The Postdoctoral Fellows Teaching Internship (PDTI) is a teaching development program designed specifically for UBC postdocs who are interested in pursuing academic teaching as part of their career.This program is being offered by the PDFO in collaboration with the Centre for the Integration of Research, Teaching and Learning (CIRTL).
By the end of the Internship, participants will be able to:
Create a framework for how a typical university course operates
Articulate how teaching and learning theories intersect with the practical requirements of a university course
Design university lessons which incorporate learner-centred lesson planning basics, demonstrating the alignment of learning objectives, learning activities and assessment techniques
Develop and refine a teaching portfolio using the evidence of teaching effectiveness gathered throughout the internship
Please contact cirtl.info@ubc.ca with any questions about the Postdoc Teaching Internship.
Program Components
The Postdoc Teaching Internship consists of two major components and a series of supporting workshops over approximately one academic semester.
Instructional Skills Workshop (ISW)
A widely recognized 24-hour teaching intensive workshop where the participants learn and practice the fundamentals of lesson planning and adult learning theory in a peer-based environment. The PDFO and Centre for Teaching, Learning and Technology offer two PDF-specific ISWs throughout the year.
Postdoctoral Fellows are also welcomed to attend Faculty ISWs held throughout the year
Mentored Teaching Practicum
A one-term mentorship program where the postdoc mentor works with an experienced mentor instructor in their discipline to enhance their understanding and experience of teaching a university course. During the internship, postdoc interns will:
observe mentors in their teaching,
teach guest lectures and receive feedback on their teaching,
discuss approaches to teaching with their mentors, and
engage in group discussions of teaching with other postdoc interns from their cohort.
Supporting Workshops
Throughout the internship, CIRTL offers a number of teaching development workshops to support participants in different components of the Internship. Supporting workshops are typically scheduled as one 2-hour workshop each month, and have included:
Developing Teaching Philosophy statements
Lesson planning clinic
Discipline-based Educational Research
Q&A sessions with a panel of teaching experts
Those who complete the Instructional Skills Workshop will lead to CIRTL Associate level. Those who complete all mandatory components and supporting workshops in the program will lead to CIRTL Practitioner level.
Upcoming Sessions
The next cohort is scheduled for January 2021 and will open with a postdoc-specific Instructional Skills Workshop planned for November 7, 8, 14, & 15, 2020. Registration information can be found below.  
Registration
ISW Registration
Registration is now open for the ISW waitlist.  After the registration deadline has passed, names will be randomly selected from the waitlist and will be notified. If the dates for the Postdoc ISW do not work for you, postdocs are welcome to attend a Faculty ISW.
Pre-register for the PDTI (January 2021 cohort) 
Once you have completed the Postdoc ISW (or if you have already completed the ISW, Foundations of Pedagogy, or CIRTL Summer Teaching Institute), you will be eligible to enroll in the next cohort of the Postdoc Teaching Internship. Please fill out the pre-registration form below to be notified when registration opens.  If you have any questions about the program, contact us at cirtl.info@ubc.ca
If you are interested in being a part of the PDTI, visit the CTLT website.