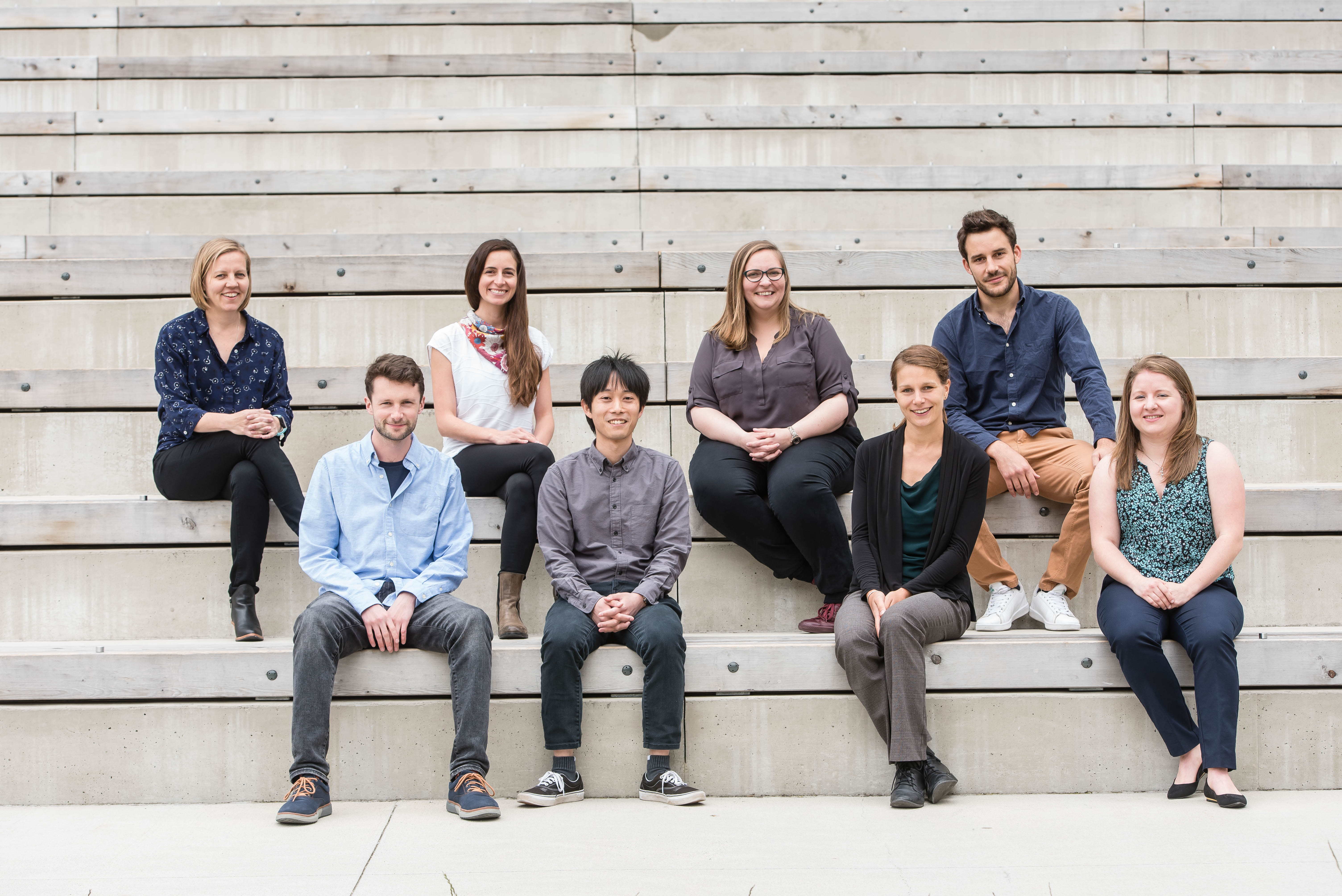 (Not pictured: Sarah Moore)
Nine postdoctoral fellows from the University of British Columbia have received 2017-2018 Banting Postdoctoral Fellowships, out of seventy fellowships awarded nationally. These prestigious fellowships provide each researcher with $70,000 each year for two years, to support research that will positively contribute to Canada's economic, social, and research-based growth.
Tahia Devisscher, one of this year's Banting recipients says the fellowship will help her advance her own research agenda and open doors when applying for faculty positions in the future. "The field of urban forestry is relatively new, and this award will certainly give me a unique opportunity to make an important contribution to this field of research in my career, and ultimately support more resilient, green cities."
UBC 2017-2018 Banting Postdoctoral Fellows
Charlotte Boott, Department of Chemistry, Faculty of Science, supervisor: Mark MacLachlan
Research focus: Novel responsive elastomeric chiral nematic materials from cellulose
Kirstin Brink, Department of Oral Health Sciences, Faculty of Dentistry, supervisor: Joy Richman
Research focus: The Development of Complex Tooth Shapes in Reptiles as a Model for the Evolution of Heterodonty in Mammals
Kieran Campbell, Departments of Statistics and Pathology, Faculties of Science and Medicine, supervisors: Sohrab P Shah and Alexander Bouchard Côté
Research focus: Deciphering the adaptive and encoded drug response in ovarian cancer with single cell sequencing and scalable statistical modeling
Francine Darroch, School of Nursing, Faculty of Applied Science, supervisor: John Oliffe
Research focus: Making a Move: Examining the Role of Fathers in Mother's Well-Being on the Downtown Eastside
Tahia Devisscher, Department of Forest Resources Management, Faculty of Forestry, supervisor: Cecil Konijnendijk
Research focus: Building green and resilient cities: a socio-ecological approach to urban forestry and climate change adaptation
Florent Mazel, Department of Botany, Faculty of Science, supervisor: Laura W. Parfrey
Research focus: MICRODIV - From mice to elephants: Integrating ecology, evolution and genomics to model mammalian gut MICRObiome DIVersity
Sarah Moore, Department of Medical Genetics, Faculty of Medicine, supervisor: Michael Kobor
Research focus: Prenatal epigenetic programming of infant stress reactivity
Caroline Ritter, Animal Welfare Program, Faculty of Land and Food Systems, supervisor: Marina von Keyserlingk
Research focus: Use of social network analysis to determine the most influential personal relationships on dairy farmers' animal health and welfare management
Kenjiro Shirane, Department of Medical Genetics, Faculty of Medicine, supervisor: Matthew Lorincz
Research focus: Defining the Roles of Overgrowth Syndrome Genes in Shaping Developmental Gene Networks in Early Embryos
About the Banting Postdoctoral Fellowships Program
The Banting Postdoctoral Fellowships Program provides the opportunity to bring top talent to join the research community at UBC. Fellowships are awarded to the very best postdoctoral researchers, both nationally and internationally, who will positively contribute to Canada's economic, social and research-based growth. Emphasis is placed on the synergy of research goals and projects between applicants, supervisors, and host institutions.
Seventy fellowships are awarded each year and are equally distributed among candidates from Canada's three Tri-Council Agencies: the Canadian Institutes of Health Research (CIHR), the Natural Sciences and Engineering Research Council (NSERC), and the Social Sciences and Humanities Research Council (SSHRC).
More information about the Banting Postdoctoral Fellowship Program is available from the Postdoctoral Fellows Office.
For images of the Banting fellows, please visit our Flickr page.