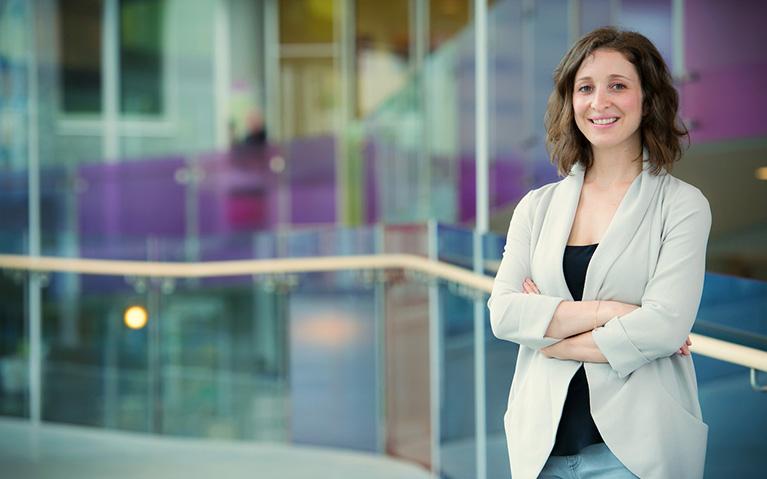 Congratulations to UBC postdoctoral fellow Jacquelyn Cragg on receiving the Society in Science – Branco Weiss Fellowship. This award provides five years of research funding and is granted to physicists, biologists, social scientists, and other researchers from around the world by ETH Zurich (Swiss Federal Institute of Technology).
Cragg, a researcher with ICORD, a spinal cord injury research centre of the UBC Faculty of Medicine and VCH Research Institute, is the only Canadian among this year's nine fellowship recipients. Cragg will examine whether pain medication can affect neurological recovery in patients with acute spinal cord injuries.
Spinal cord injury (SCI) is a devastating, life-altering event. Unfortunately, there are no drug treatments available to help with the neurological consequences of acute SCI. Cragg recently discovered that patients taking anticonvulsants, used to manage neuropathic pain, recovered more muscle strength than patients taking other types of medications.
Cragg received her PhD in UBC's School of Population and Public Health in 2015 under the supervision of Dr. Jaimie Borisoff and Dr. David Patrick, and has completed postdoctoral work with Dr. Marc Weisskopf (Harvard T.H. Chan School of Public Health) and Dr. Neil Cashman (UBC Division of Neurology). She has also won awards from the Michael Smith Foundation for Health Research, ALS Society of Canada, American Spinal Injury Association, and many others.
For more information about Cragg's work, visit the ICORD website.
About Society in Science – The Branco Weiss Fellowship
Society in Science – The Branco Weiss Fellowship was founded in 2002 to provide a platform for researchers in the natural sciences and engineering who are aiming to extend their scientific work to cover specific social and cultural questions and perspectives. The fellowship was initiated and financed by the Swiss entrepreneur Dr. Branco Weiss, who died in 2010. It belongs to ETH Zurich. Professors Angelika Steger, Heidi Wunderli-Allenspach, and Josef Zeyer direct the fellowship program, and are supported by ETH Zurich's strategy committee, consisting of prominent international scholars from a wide array of disciplines. To qualify for the prestigious grant, candidates must hold a PhD and provide evidence of outstanding scientific achievement.
For more information on Society in Science, please visit www.society-in-science.org