Tri-Agency Updates & CCV Consultation
Date & Time
Monday, 3 June 2019 -

1:00pm

to

2:30pm
Location
ORS Boardroom (Room 102), 6190 Agronomy Road
Organizer
Postdoctoral Fellows Office, SPARC and the Canadian Institutes of Health Research
The Canadian Institutes of Health Research and the PDFO invite postdoctoral fellows who have had first-hand experience working with the CCV to join this 90-minute consultation and provide direct input to future changes being planned for the CCV. The session will also introduce participants to the Gateway Tri-Agency initiative to modernize the grants management platform and to the consultation process for the renewal of CIHR's strategic plan. The session will conclude with training-related updates from CIHR's Strategic Action Plan on Training and the College of Reviewers.
Launched in 2002, the Canadian Common CV (CCV) is a web-based application that provides researchers with a single, common approach to gathering CV information required by a network of federal, provincial and non-profit research funding organizations. The CCV allows researchers to enter their CV data once and output it in formats suitable for submission to member organizations. The Tri-Agencies (CIHR, NSERC and SSHRC) recognize that there are challenges with the CCV application. To this end, we are looking to make adjustments to the CCV application to ensure that researchers and research administrators have access to the most efficient platform possible. This session will give participants an opportunity to provide input on upcoming changes
SPEAKERS
Annik Poirier, Manager, Canadian Institutes of Health Research
Pierre Côté, CPA, CA, Director General, Canadian Institutes of Health Research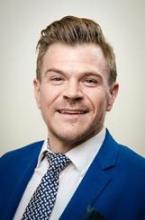 Pierre Côté is the Director General, Operations Support responsible for supporting program and competition management through launch management, application processing, policy interpretation, grant holder administration, inquiry management and business system ownership.  Pierre started at CIHR in June 2016 as Manager Financial Operations and Procurement leading the Renewal of the Tri-Agency Financial Administration Initiative.  Pierre received his Bachelor of Business Administration in Accounting from the Université de Moncton in 1999 and has been a chartered professional accountant since 2002.  He acquired experience in financial management while working as an audit professional at the Office of the Auditor General of Canada from 1999 to 2007 and as Chief Accountant with Parks Canada from 2007 to 2013.  Pierre also worked at Statistics Canada's Finance Branch from 2013 to 2016, where he served as Acting Assistant Director, Financial Systems and Controls and Assistant Director, Financial Management Operations including being responsible for the financial operations of the 2016 Census of Population. 
Registration
Registration in this session is required and is now open. Those successfully registered will receive a confirmation email within one week of the session date.