Project Management is increasingly becoming a needed skill in both research and non-academic settings. The PDFO Summer Institute in Project Management is designed to provide a comprehensive overview of topics in research project management, including an introduction to the principles, and key elements of scope, time, cost, quality, stakeholder and risk management for projects in research.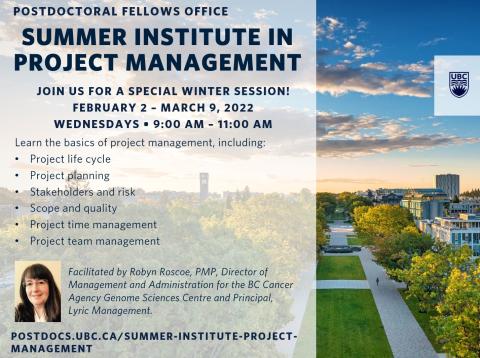 This summer institute is comprised of:
12 hours of class time delivered over 6 two-hour workshops

Classes will present material for each module and will involve class participation and discussion around prepared project case studies provided by the instructor.
Classes will NOT be recorded.

Read and watch elements, and lists of supporting materials in the form of online readings and videos for each module.

The suggested readings and other materials will assist students in examining the concepts of project management, as well as project metrics, project close-out, and essentials of leadership.
Postdocs who complete all six sessions in full will receive a certificate of completion from the PDFO.
TIME COMMITMENT AND PRE-WORK
Due to the interactive and cumulative nature of the Summer Institute in Project Management, participants are expected to attend all sessions in full. Program components include 6 two-hour sessions held between February and March of 2022. In order to maximize time during each session, some pre-work will be required.
ELIGIBILITY REQUIREMENTS
All participants must be available to attend all sessions in full.
All applicants must hold a current UBC postdoctoral fellowship appointment at the time of application and for the duration of the program.
Postdocs who have repeatedly missed PDFO workshops without notice/cancellation may be considered ineligible to attend.
SESSIONS AND CONTENT
Pre-Program Video Module: Available January 26, 2022
A video introduction to the program and the instructor, Robyn Roscoe.
Module #1: Key Principles of Project Management - Wednesday, February 2, 2022 - 9:00 AM - 11:00 AM
Definition of a project
Project life cycle
Project initiation
Ten knowledge areas
Project planning
Module #2: Stakeholders and Risk - Wednesday, February 9, 2022 - 9:00 AM - 11:00 AM
Stakeholders

Definition
Classification
Prioritization
Requirements
Expectations

Risk

Definition
Assessment
Planning
Module #3: Scope, Quality and Project Time Management - Wednesday, February 16, 2022 - 9:00 AM - 11:00 AM
Scope

Definition
Scope statement
Scope creep/seep

Quality

Definition
Characteristics
Criteria

Project time management

Activity relationships
Scheduling of project time
Schedule crashing
Measuring schedule performance and scope management
Module #4: Project Cost Management (Part 1) - Wednesday, February 23, 2022 - 9:00 AM - 11:00 AM
Expense categories
Budget development
Measuring budget performance
Module #5: Project Cost Management (Part 2) - Wednesday, March 2, 2022 - 9:00 AM - 11:00 AM
This is a continuation of module #4.
Executing, controlling and monitoring, and closing – bringing it all together.

Establishing metrics for managing the project.

Establishing control points/mechanisms in scope, time, cost, quality, risk, and team.

Comparing plan to outputs
Confirming completion of stakeholder requirements and expectations
Audit considerations
Module #6: Project Team Management and Project Communications Management - Wednesday, March 9, 2022 - 9:00 AM - 11:00 AM
Project team management

Describe/identify project resources required
Organization chart/communication plan
Decision making approaches
Conflict resolution

Project communications management

Communication planning
Performance reporting

Final Q&A with instructor
FACILITATOR
Robyn Roscoe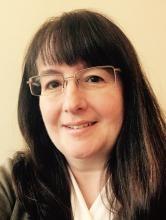 Robyn Roscoe is a certified Project Management Professional (PMP) with over 15 years of experience in the management of large health research projects, and nearly 25 years experience in project management in the scientific and technical fields. She is currently Director of Management and Administration for the BC Cancer Agency Genome Sciences Centre, responsible for project, finance and operations management. She previously worked in the oil & gas industry as a project manager, operations specialist and environmental manager. She holds a BSc from the University of Manitoba. 
Since 2004, Robyn has been delivering training workshops and presentations throughout Canada, reaching more than 2,000 trainees and professionals looking to develop and expand their management and leadership skills.
In 2016, Robyn received the Research Management Excellence Award from the Canadian Association of Research Administrators, and in 2017 she was awarded the CARA Innovation Award. These awards recognize exceptional creativity, innovative research management and outstanding contributions and dedication to the profession nationally and internationally.
In 2011, Robyn started Lyric Management, a consulting in research management and leadership training. Robyn is committed to expanding knowledge and interest in the field of research administration and contributing to excellence in research management in BC and Canada.
Registration
Registration in this session is required, and is now open. Those successfully registered will receive an email within one week of the session date.
NO-SHOW PENALTY: If you register and do not attend or cancel after 3pm on the day before the event, it may affect your eligibility to join future events. To avoid this no-show penalty, please cancel by at least 3pm the day before the event by emailing postdoctoral.fellows@ubc.ca.
Accessibility
If you have a disability or medical condition that may affect your full participation in the event, please email postdoctoral.fellows@ubc.ca in advance of the event.
PDFO EVENT COMMUNITY AGREEMENT
The PDFO has created a community agreement for our events in order to foster an inclusive, welcoming, and respectful environment in which all event attendees feel safe and supported.
By participating in a PDFO event, we commit ourselves to:
Treating one another with kindness, courtesy and respect in all interactions;
Engaging in gracious, active listening and valuing others' opinions;
Not dominating discussions so that others can share during the session;
Ensuring that any potentially confidential or sensitive information shared as part of the session is not shared outside of the session;
Actively participating in the session; and
In online sessions, when possible and if comfortable sharing audio and/or video to create a greater sense of community and participation.
DELIVERY FORMAT
Due to the ongoing situation surrounding COVID-19, this program will be delivered online via Zoom. The following suggestions may help to improve the online experience:
Use headphones to reduce noise and avoid feedback between your mic and speaker.
Ensure that you are in a quiet location so that the audio does not get polluted with unwanted noise.
Keep your microphone on mute unless you are speaking during the session.
In case of technical problems, time for plugin downloads, etc., please attempt to log into the Zoom meeting 10-15 minutes before the start. You will be placed in the waiting room until the official start time.