Why Capable People Suffer from the Impostor Syndrome and How to Thrive in Spite of It
Date & Time
Thursday, 31 January 2019 -

4:00pm

to

6:00pm
Location
Life Sciences Centre, UBC Vancouver, Point Grey Campus; Videoconferencing available to BCCHR and UBC Okanagan
Organizer
Faculty of Graduate and Postdoctoral Studies
Join us for an interactive presentation led by speaker and author Dr. Valerie Young, presented in partnership with the Vivien M. Srivastava Fund
Do you chalk your accomplishments as a fluke or "no big deal? Do you think, "If I can do it, anyone can"? Do you feel like you're just fooling your professors? If so, join the club! Millions of people around the world — from executives to bright university students and their professors to Academy award winners— secretly worry they're not as bright and capable as other people "think" they are. It's called the Impostor Syndrome and there is a cure.
This event will be held at the Life Sciences Institute on the UBC - Point Grey campus, with videoconferencing to UBC Okanagan and the BC Children's Hospital.
Event Details
Date: Thursday, January 31, 2019
Time: 4:00 PM - 6:00 PM 
Locations: 
In-Person - UBC Point Grey Campus - Life Sciences Centre (2350 Health Sciences Mall)
Videoconference - BC Children's Hospital Research Institute
Videoconference - UBC - Okanagan
Presenter
Dr. Valerie Young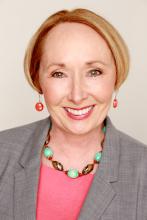 Dr. Young has spoken to tens of thousands of students, faculty, and staff at 90 colleges and universities in in the US, Canada, and Japan including UBC, York, Simon Fraser, Western, Harvard, Stanford, and MIT and at dozens of corporations like Apple, Boeing, Chrysler, IBM, and P&G. The Secret Thoughts of Successful Women (Random House) is useful to both men and women and is available in five languages. She'll lead a dynamic session packed full of practical strategies for interrupting needless self-doubt.
Registration
Registration in this session is required and is now open. There are limited seats available in this session, and those successfully registered will receive an email within one week of the session date.
Graduate students, please register through Graduate Pathways to Success.
After registering, you will receive confirmation and additional event details within 2 business days at the e-mail you provided. If you experience any difficulty using the online registration tool, please e-mail us at postdoctoral.fellows@ubc.ca.